Moving from one state to another is a daunting task, whether you are moving temporarily or permanently. Packing and shifting household items requires a lot of energy and time. But no matter how hard it is to shift home items, it cannot be more difficult than towing a vehicle.
To ensure that your vehicle reaches the other state with full safety and protection, you need to look for a reliable cheap way to tow a car. Hitching and unhitching a car requires expert dealing as a minor mistake can compromise safety during transport. Therefore, you should be aware of the factors to focus on before choosing the best car towing company that can transport vehicles at cheaper rates.
This guide will cover everything you need to know about finding the cheapest way to tow a car long distance. So, stick with us till the end.
How to Choose the Best Car Towing Company?
Picking the right and cheapest towing vehicle company is crucial to transporting your car safely to another place. A well-reputed company will always take good care of your car. With that said, the following section covers tips to help you choose the best and cheapest car towing service.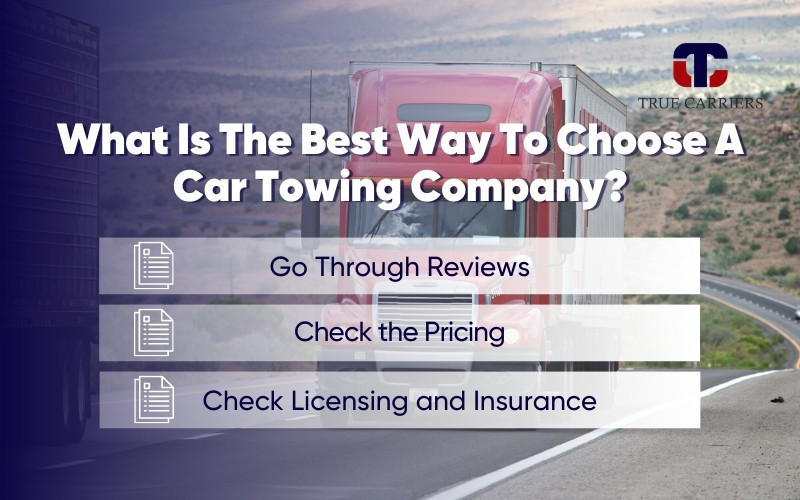 Go Through Reviews
Before you look anywhere else, ask your friends, family, and neighbors if they have ever towed a car before. If they did, ask them about the service they chose and their experience. Get their reviews before coming to a conclusion.
Another way is to check the reviews of a certain car transport company online, for example, you can check site transport reviews. Read the detailed review of people about the company. If you notice consistently good ratings and reviews, it is likely that the company is trustworthy and reliable.
Check the Pricing
Even if the company seems legit and reliable, you still need to do some research on its pricing. Of course, you don't want to empty all your pockets merely on state-to-state car towing. Therefore, it is necessary to ask the company about how much it will cost to tow a car from your pickup location to the desired place.
Ensure that the company has mentioned all the charges before finalizing a deal, as there are usually extra charges for hooking up vehicles and towing off roads.
Check Licensing and Insurance
Anything can possibly go wrong during the towing process. The towing vehicle can get into any unfortunate incident resulting in damage to your vehicle. But if a company is licensed and insured, you don't have to worry about anything. Therefore, remember to ask the company to show you the license and insurance proof before proceeding to finalize any deal with them.
Things to know When Towing a Car
All set to tow your car? Here are a few things you should keep in mind before handing it over to the vehicle towing services: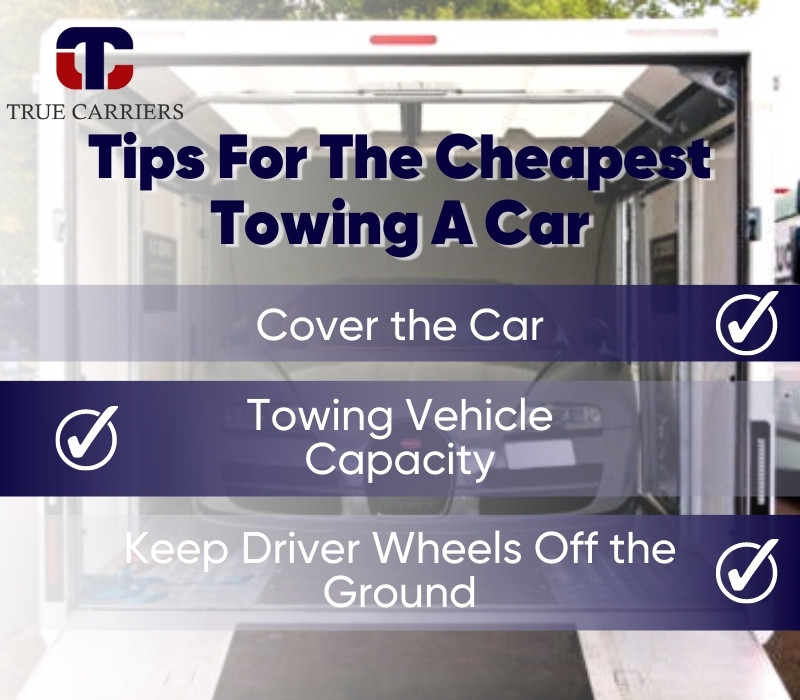 Cover the Car
The car will come across dirt and debris throughout as it will stay on the road. To protect the car from the open environment and harsh weather conditions, you should cover it thoroughly. This will keep the car safe from dirt and prevent it from getting scratched.
Towing Vehicle Capacity
Towing vehicles have a limited capacity. It cannot bear more weight than its limit. To ensure the safety and protection of your car during transport, you should follow the car's capacity. Exceeding the limit will damage both the towing vehicle and the car being towed.
Keep Driver Wheels Off the Ground
To prevent any damage, it is necessary to keep the drive wheels off the ground. If you cannot keep the drive wheels off the ground, you can use accessories like drive shaft couplers or lube pumps. However, whether you want to use these or not significantly depends upon the way in which you tow the vehicle.
Car Towing Cost
The cost of towing a car greatly varies depending upon a number of factors, among which distance is the most significant one. State-to-state car towing can cost you anywhere between $2 to $7 per mile. However, this price significantly reduces with the increase in distance, for example for long-distance car towing cost can lower than a $1 per mile. Remember that this is only per mile cost. The hook-up fee will be added later on, which may also be followed by some additional charges.
For any additional services you take, you need to pay some extra amount. The situation can be having the car in a collision, an oversized car, towing at night or on the weekend, transporting the car through off-roads or mountainous areas, or needing to free the car before it is towed.
Therefore, you should always ask the company for a full quote, including all the charges. Finalize everything on how long it will take them to deliver your car before you make the final decision.
FAQs
Is it worth trying a tow service?
Tow services save plenty of your time. After giving your car in safe hands, you can get ready to shift to another place with peace of mind. Though car transport services are expensive, you can rest assured about its safe and on-time delivery.
What factors affect the cost of towing a vehicle?
The size and weight of the vehicle are the major factors that affect the cost of towing any car. Apart from that, the distance from the pickup location to the delivery point also matters. A heavier car and a larger distance will definitely cost you more. Similarly, the vehicle's condition also matters in determining the final cost of towing a car.
Does the insurance cover the towing expenses?
Before hiring any auto transport company to tow a vehicle, you need to find out whether your insurance company will cover the expenses. If they don't, you have to pay for everything yourself. It is rather best to find the transport companies that work with the major insurance providers of your state, or at least with the one, your car is insured with.
Thinking of shipping a vehicle?
Start shipping with the top auto transport company