Does the thought of cross-country auto transport create a whirlpool of mess in your mind? If yes, then you are not alone on this ship. Almost all the people looking for auto transport service face problems. But the good news is that this process is not as complicated as you think.
Let us explore the whereabouts of cross-country car transport. This article contains the following:
How To Ship A Car Cross Country (3 Easy Steps)?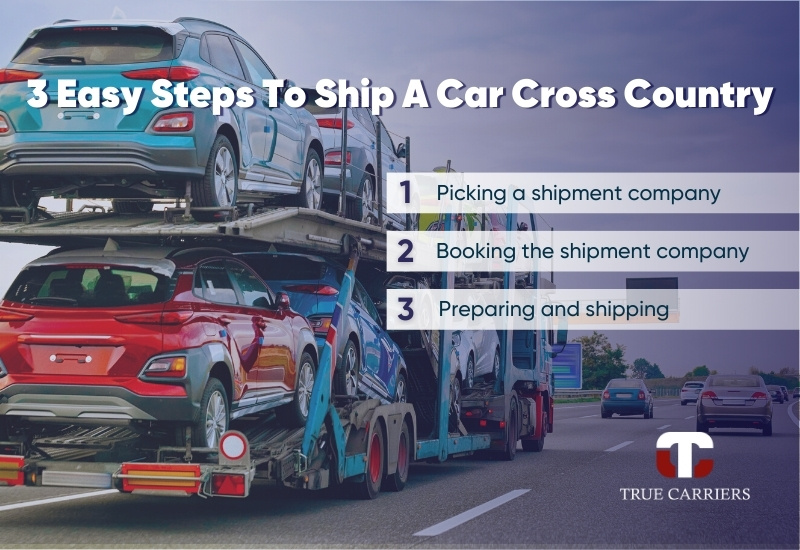 If asked to explain in three easy steps, one can say that you can ship a car across the country by:
Although we successfully put that out in three easy steps for you. But the process is not as straightforward. Here is the detail of each step and a lot you must consider.
How Does Cross-Country Vehicle Shipping Work?
Here are three easy steps to ship cars across the country without hassle.
Pick a shipment company
Go through the internet and look for services available around you to ship your car. Here, you have to be thoughtful about your budget and the vehicle you mean to transport. Both of them are correlated.
Or just get your cross country auto transport quote from our company
For a high-end vehicle, you will need a closed carrier, which will add up to the cost. Open car carriers are less expensive, but the choice depends on you. Also, it would be best if you talked to a representative from the company you finalize. Let them explain the entire procedure, and then you can convey any additional information you want to share. Quote a price with them and then finish everything.
Book your transport
Now that you have finalized everything with a shipment company, it's time to book them without a second thought. At this point, you might need to share important information with them, such as the pickup and delivery address, your vehicle details, and your expected car moving date.
It will help if you provide the company with one contact detail from each pickup and drop-off location.
Preparation and Shipment
Before shipment, you need to run a few checks on your automobile before you ship it to its new destination. This checklist includes the following: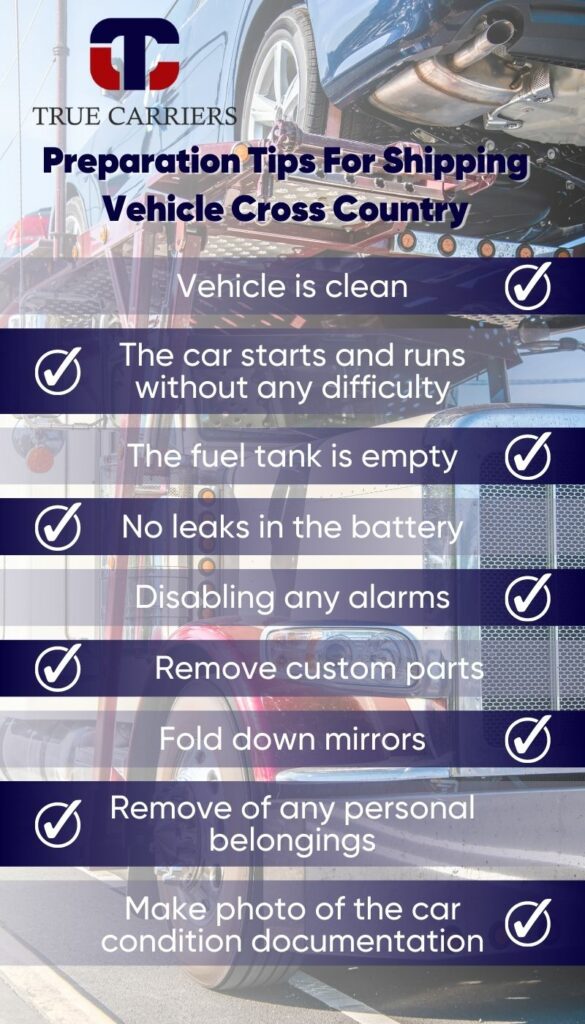 On the day of shipment, be there on time. Also, don't forget to take your driver's license and the necessary documents for the car with you. If the shipment company specifically asked for any documents, include them too. If the vehicle has any technical issues, inform the shipment company.
Types of Vehicle Transportation Cross Country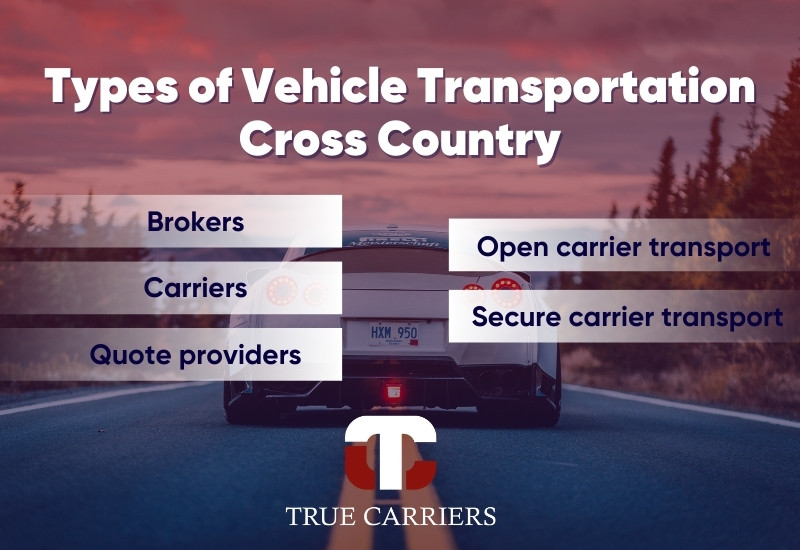 There are three types of companies that do vehicle transportation across the country. When looking for vehicle transporters on the internet, you will come across these three types.
Brokers
These are the companies you will commonly find on your Google hunt. Their job is to find a carrier that suits your route and requirements. Brokers are most widely trusted by people looking to ship a car cross country.
Carriers
Carrier companies work in close coordination with brokers. You will hardly find carrier companies advertising their services as they rely on brokers for this. So, if you want to book a carrier company for the cross-country shipment of your vehicle, you should contact a broker.
Quote providers
A quote provider can link you with various brokers through the website. The trick is straightforward with quote providers; you have to fill out a quote form, and you will get multiple quotes in response to that. Quote providers are not everyone's cup of tea. Only go for this option if you are trying to get the best possible rate. With this option, you can get a swamping number of calls and messages. So, don't go with this option if you are not up for that.
Depending on the car you mean to transport, you can opt for either an open carrier transporter or a closed one.
Open carrier transport
It is an easy and budget-friendly option that consists of an open trailer. However, there is a rare chance of any external damage to the vehicle. Available carrier transport is the most opted way of car transport across the country or cross country. But there is one thing you must keep in mind with this option there will be almost 7 to 9 other vehicles being transported with your car in the same carrier.
Secure carrier transport (enclosed car shipping)
Enclosed carrier transportation is a relatively expensive transport mode. This mode protects the car from all external factors. You can opt for it if you want to transport a high-end vehicle. Other scenarios where a closed carrier might be the best option include a custom paint job, an exotic car, or a rocky travel route.
Cross-Country Car Transport Rates
Generally, the rates of car shipping depend on the route and mileage. An average auto transport company charges $2.00 per mile for journeys less than 200 miles. For trips greater than 1500 miles, the price may lower to $0.76 per mile. However, this is an estimation.
Many factors affect the rate of cross-country transportation.
According to a generalized estimation, car transport costs round off to $1,650 per national rate. The lowest possible price you can get with a standard delivery time is $1,200 in an open carrier. With a secure page, the cost will increase and may reach up to $2,100.
Other factors that affect the final price include: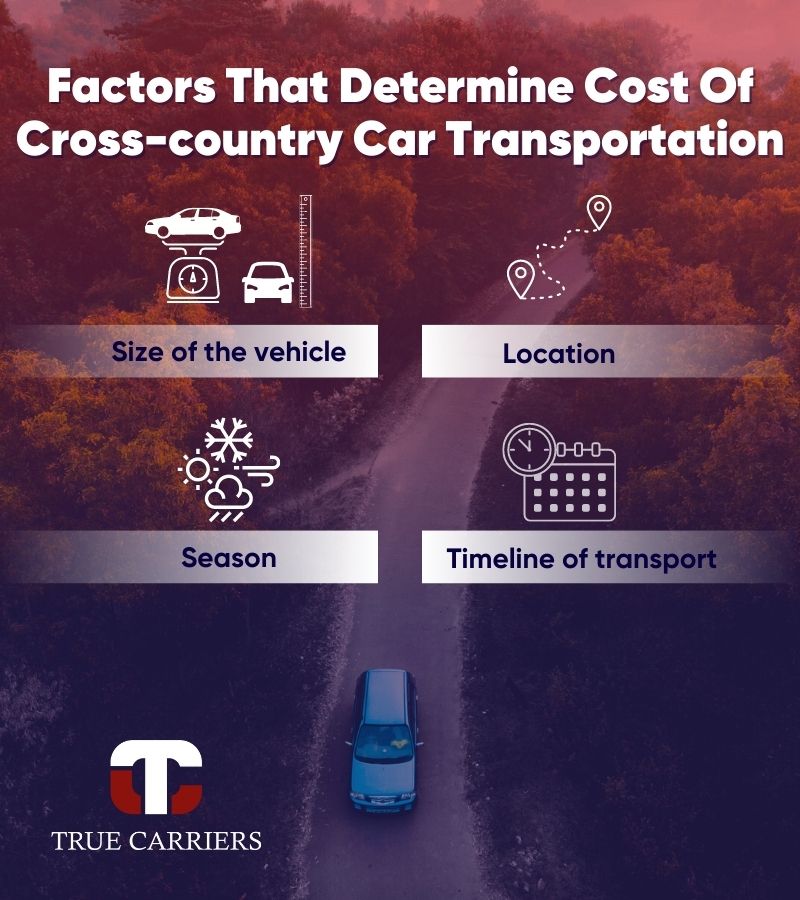 Size of the vehicle
A heavy vehicle usually costs twice as much in transportation rates than a light, compact car.
Location
Many auto transport companies offer a door-to-door delivery service, so their service is high-priced. For a lower price, you have to drive your car to the terminal of the transport station and then pick it up after delivery from there.
Season
In winter, due to less demand for transportation services, you might be able to save a few blocked roads.
Timeline of transport
Although auto transport service takes at least one to two weeks with standard delivery, you can opt for urgent service with a slightly additional cost if you are in a hurry.
What Documents Do You Need To Ship Cross-Country And Abroad?
Documents are the most critical and integral part of any auto transport. This area needs your attention if you want your vehicle's shipment to take place smoothly without delay.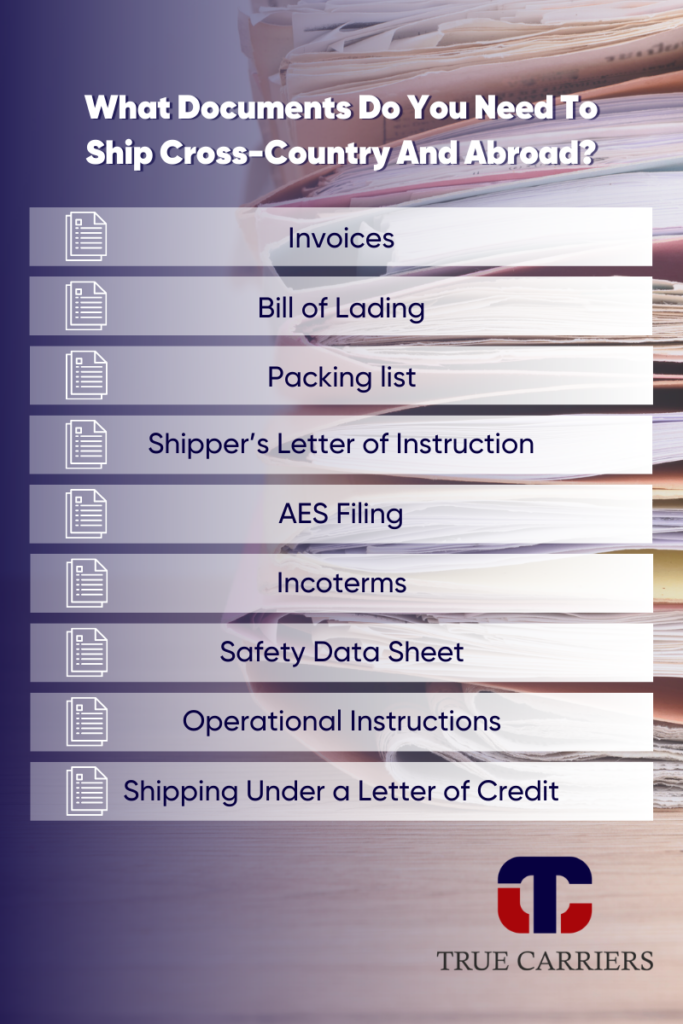 Invoices
These include commercial and proforma invoices that are preliminary proof of any sale/purchase.
BOL
BOL, or a Bill of Lading, is a contract between a carrier and a shipper. It contains all the details about the transportation, i.e. the mode and route.
Packing list (overseas and abroad shipping)
A packing list is a list that contains all the contents of the shipment, such as:
Such lists are often of great help to custom officers.
SLI (need if shipping some goods with the vehicle)
SLI or Shipper's Letter of Instruction is an appearance that contains critical information to move the goods correctly. It contains:
AES Filing (overseas and abroad shipping)
AES, or Automated Export System, is an online method of compiling all the export information of the product/vehicle. It contains:
Other important documents contain:
If any documents are not ready or updated, sort them out. Also, the documents mentioned above are all critical for any cross-country shipment. However, do check with your auto transporter about the necessary documents.
FAQs
Should I book in advance?
By booking at least 15 days in advance, you will be able to get a better deal and probably prioritized shipping details.
What is the expected time of arrival of shipment?
Cross-country shipment takes almost one to two weeks to arrive.
Is car shipment better than driving?
Car shipment is a hassle-free option than driving. However, the decision should be taken on mileage and feasibility.
Can I ship a damaged car?
Yes, you can ship a damaged car. However, it needs a winch carrier for safe transport, which might add to the cost.
Do I need to buy a need special insurance?
Most of the well-reputed auto transport companies have liability and cargo insurance. If you opt for a good shipment provider, you won't need any special insurance.
Thinking of shipping a vehicle?
Start shipping with the top auto transport company