Navigating the sphere of IAAI auto transport can often be a maze. But, what if it doesn't have to be? This comprehensive guide unravels the intricacies of the process, demonstrating how True Carriers, a titan in the industry, revolutionizes IAAI car auction transport services. Ready to explore a world where efficiency, reliability, and peace of mind are the norms? Buckle up, as we gear towards the future of auto transport.
What is IAAI and How Does it Work?
Insurance Auto Auctions, Inc. (IAAI) is a big name in the auto auction industry, and for good reason. Based right here in the USA, IAAI has taken the traditional auto auction and given it a digital spin, offering live and online salvage vehicle auctions.
IAAI's platform is a treasure trove of all kinds of vehicles. We're talking about everything from cars that need a little love and care, to commercial vehicles, to vehicles recovered from theft. It's a great opportunity for us regular folks and businesses alike to snag a deal on a vehicle.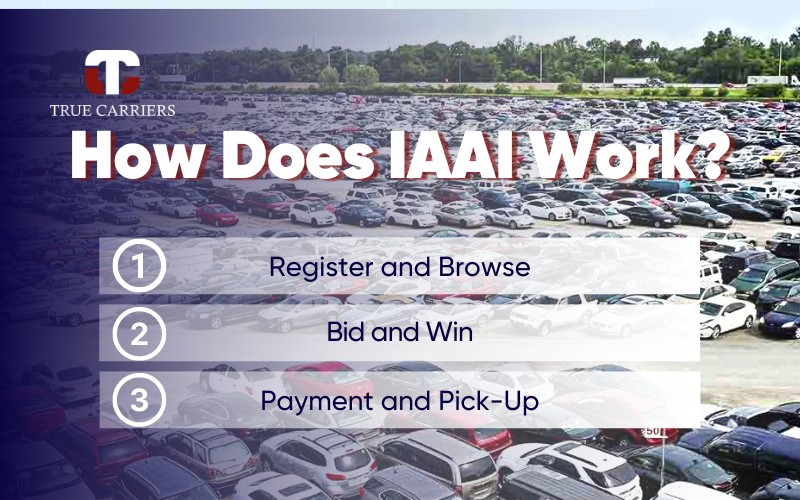 So, how does it work? It's as easy as pie:
Now, winning the bid is a thrill, but arranging the pickup and shipping for your new ride can often seem like a curveball. That's because IAAI leaves the transportation part up to you. But hey, that's where True Carriers steps in.
But, you might wonder, "What exactly does this IAAI auto transport process look like?" Well, buckle up, because next up we're taking you through the journey, step-by-step. Let's dive in!
Step-by-Step Guide to IAAI Auto Transport
So, you've won a vehicle at an IAAI auction – congrats! But what happens next? How does this car end up from the auction site to your home or business? With True Carriers, we turn what could be a complicated process into an effortless journey. Here's a breakdown of the steps of auction auto transportation: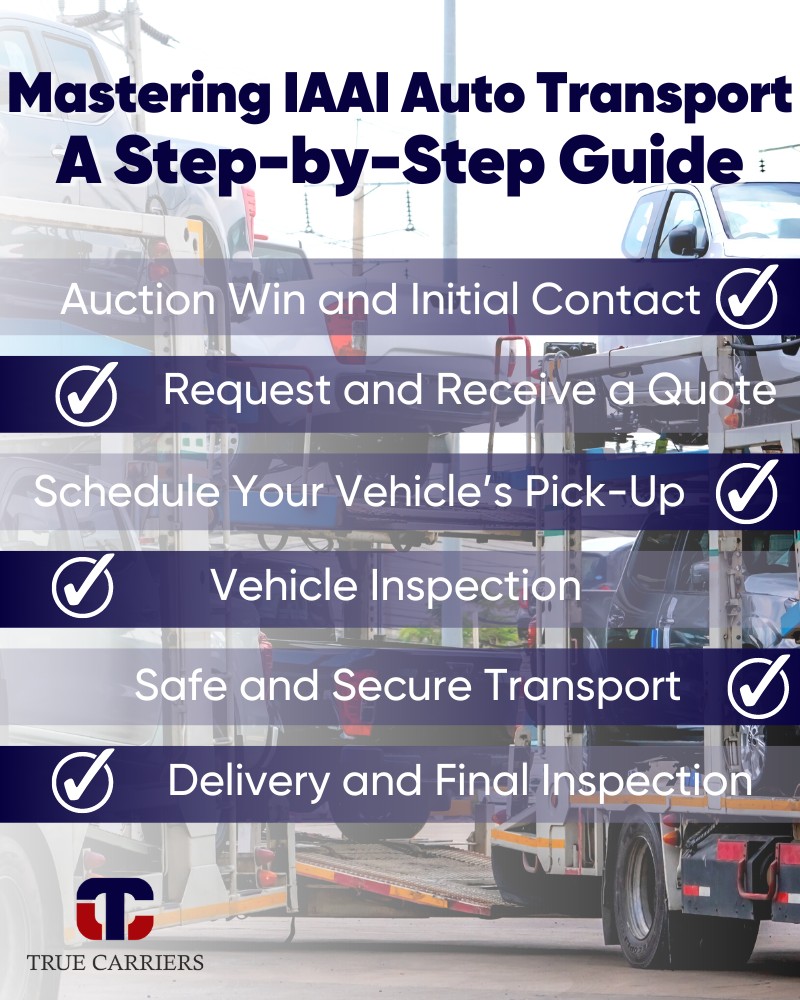 And that's it! From the auction block to your driveway, True Carriers makes IAAI auto transport a breeze. But we bet you're wondering, "What does this all cost?" Up next, we'll break down the factors that influence the price tag of your IAAI car shipping. Stay tuned!
The Price Tag: Understanding IAAI Auto Transport Costs
Alright, now let's talk dollars and cents. How much does it actually cost to transport a vehicle from an IAAI auction to your doorstep? Well, as with most things in life, the answer is: it depends.
When it comes to IAAI car shipping cost, several factors come into play:
So, how do you get an exact number? The easiest way is to get in touch with us at True Carriers directly or use our online cost estimator tool for a quick quote. We take all these factors into account to give you a competitive, transparent price.
But remember, at True Carriers, we never compromise on service quality. You're not just paying for vehicle shipping; you're investing in peace of mind, knowing your vehicle is being handled by professionals committed to delivering your car safely and efficiently.
Navigating the world of IAAI auto transport can seem daunting, but it doesn't have to be. With True Carriers, we take the guesswork out of the equation and provide a seamless, hassle-free experience from the auction site to your driveway.
Understanding the auction process, knowing the steps involved in transporting your vehicle, and getting a clear breakdown of the cost factors can empower you to make informed decisions. But remember, it's not just about getting your vehicle shipped – it's about the peace of mind that comes from knowing you're in good hands.
With our exceptional track record, dedication to customer service, and commitment to transparency, True Carriers stands out as your go-to choice for IAAI auto transport. Your vehicle deserves nothing less than the best, and that's what we strive to offer.
Thank you for taking this journey with us. We hope this guide was informative and eased any concerns about IAAI car shipping. If you have more questions, stick around for the FAQs coming up next, or feel free to reach out to us directly. Safe travels!
FAQs
Can True Carriers transport vehicles purchased from other auto auctions besides IAAI?
Yes, we're experienced in shipping vehicles from a variety of auction sites. Reach out to us with the details and we'll be glad to assist.
What if my vehicle is damaged during transit?
While we take utmost care to prevent damage, in the unlikely event of any damage, our comprehensive insurance coverage will handle the repairs or compensation.
Can True Carriers transport special vehicles like antique cars or exotic vehicles?
Yes, we can! Our team is experienced in handling special vehicles with extra care and can offer enclosed transport options for added protection.
Can I pack personal items in my car during transport?
Generally, we advise against packing personal items in your vehicle due to insurance and safety regulations. If you have specific needs, please discuss them with us, and we'll work to accommodate you.
Can I cancel my transport if my plans change?
We understand that plans can change. If you need to cancel, please contact us as soon as possible. Please note, cancellation policies may apply.
What happens if the pickup or delivery dates change?
We make every effort to adhere to the schedule, but sometimes unforeseen circumstances may occur. If any changes to the schedule happen, we'll notify you immediately.
Thinking of shipping a vehicle?
Start shipping with the top auto transport company