Buying a new car from a dealership is always thrilling, but figuring out how to get your fresh set of wheels home is just as important. In this guide, we're going to break down dealership auto transport for you, showing you why True Carrier's top-notch shipping services are perfect for individuals and businesses across the United States.
Understanding Dealership Auto Transport
Insider Tips for Researching and Choosing the Ideal Transport Provider
Figuring out dealership auto transport might seem daunting at first, but with the right insights, you can confidently pick the best shipping company to suit your needs. Here are some valuable tips to help you find the perfect transport provider:
A Step-by-Step Breakdown of the Dealership Auto Transport Process
Grasping the dealership auto transport process can help you make informed choices and ensure a seamless experience. Here's a step-by-step rundown: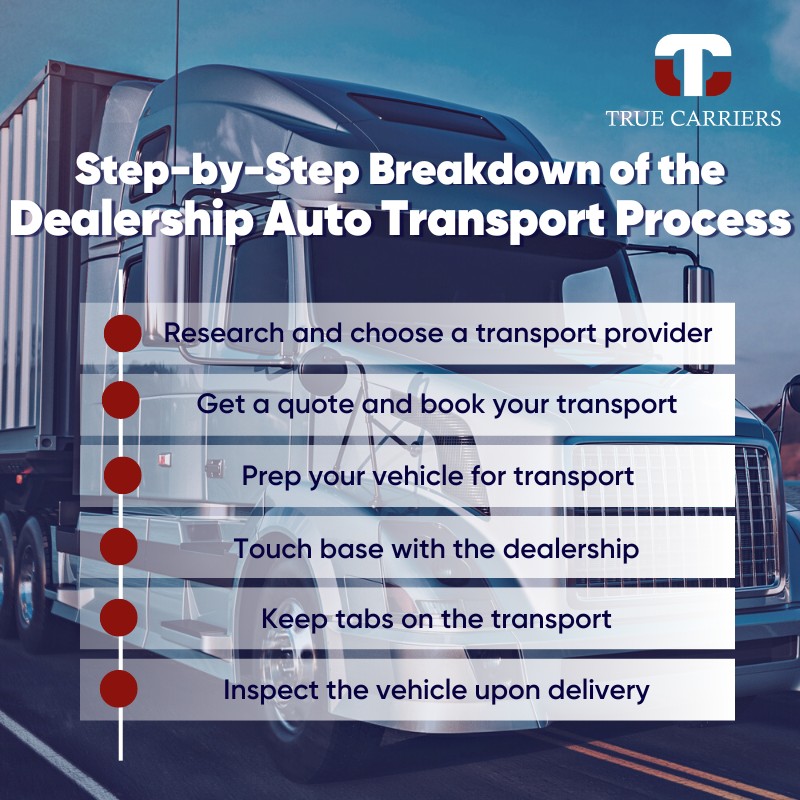 With a solid understanding of dealership auto transport under your belt, you're now ready to move on to the next part of our guide, where we'll discuss how to make the process a breeze by following foolproof steps for booking your transport services and gathering all the essential documents.
Making Dealership Auto Transport a Breeze
Foolproof Steps for Booking Your Transport Services
Now that you've got a solid grasp on dealership auto transport, let's dive into how to make the process as smooth as possible. Follow these foolproof steps when booking your transport services: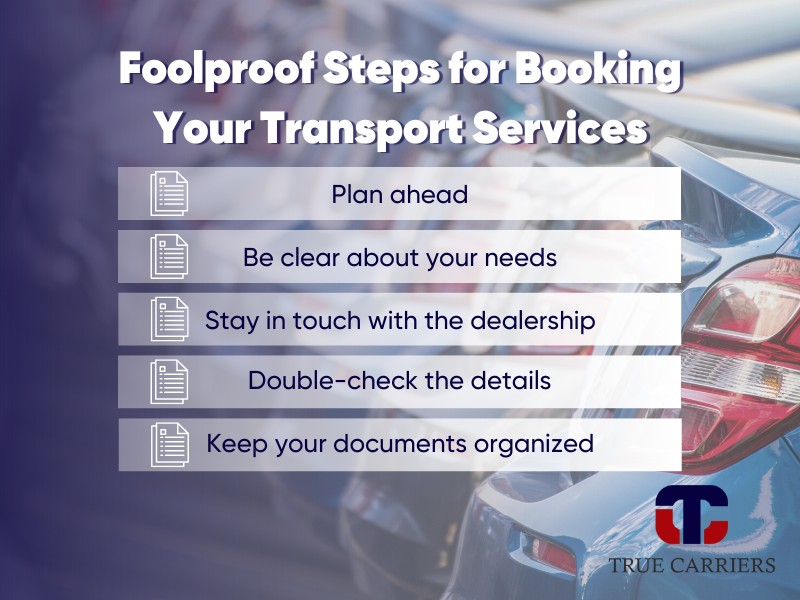 All the Must-Have Documents for a Smooth Dealership Auto Transport
Having the right paperwork is crucial for a hassle-free dealership auto transport experience. Here's a list of the must-have documents you should keep on hand: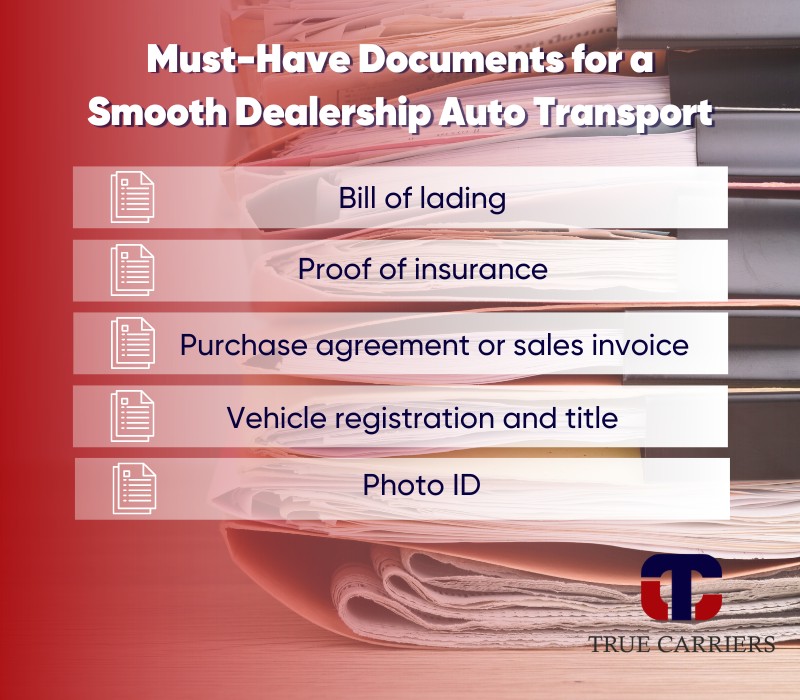 By sticking to these foolproof steps and having all the must-have documents at your fingertips, you'll be well on your way to making dealership auto transport a breeze. Remember, True Carrier's shipping services are designed to cater to your unique needs, making the entire process even smoother. Up next, we'll explore how to handle common challenges that might pop up during the process and share tips to steer clear of potential issues.
Tackling Common Dealership Auto Transport Challenges
Potential Roadblocks and How to Dodge Them
Even with the best planning, dealership auto transport can sometimes come with a few hiccups. Here's a look at some common challenges and how you can sidestep them: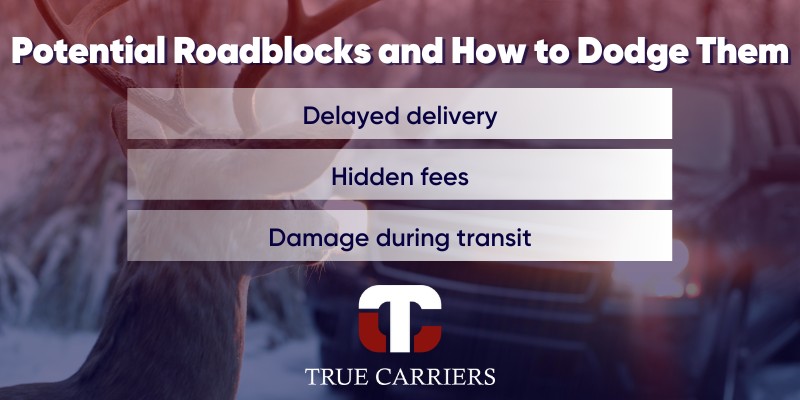 Top Tips to Breeze Through These Issues
Facing these challenges head-on is easier with a few tips up your sleeve. Here's how you can breeze through these issues:
By being aware of potential challenges and equipped with these tips, you're well-prepared to tackle any hurdles that come your way during dealership auto transport. With the right approach, planning, and communication, you can ensure a smooth shipping experience, giving you the peace of mind that your new vehicle will arrive safe and sound at its destination.
Navigating dealership auto transport doesn't have to be a daunting task. With the right research, careful planning, and by partnering with a trusted transport provider like True Carrier, you can ensure a smooth and efficient process. Remember to stay clear and upfront about your requirements, keep your documents organized, and be prepared for potential roadblocks. By following this comprehensive guide and leveraging True Carrier's exceptional services, you're well on your way to a successful vehicle delivery from the dealership, allowing you to enjoy your new ride without the added stress. Safe travels!
FAQs
How much does dealership auto transport cost?
The cost of dealership auto transport varies depending on factors such as distance, vehicle type, carrier type (open or enclosed), and the time of year. Always request quotes from multiple providers to get a clear understanding of the costs involved.
How far in advance should I book my auto transport?
It's a good idea to start researching and booking auto transport services as soon as you know you'll be purchasing a vehicle from a dealership. This gives you ample time to compare providers, gather quotes, and choose the best company for your needs.
What if my vehicle has modifications, can it still be transported?
Yes, most auto transport companies can accommodate vehicles with modifications. However, it's essential to inform your chosen provider about the modifications beforehand so they can make the necessary arrangements.
Are there any restrictions on the types of vehicles that can be transported?
Generally, there are no restrictions on vehicle types as long as they meet size and weight requirements. However, it's essential to discuss your specific vehicle with your chosen transport provider to ensure they can accommodate it.
Are there specific times of the year when auto transport is more expensive or takes longer?
Auto transport prices and transit times can fluctuate throughout the year due to factors such as seasonal demand, weather conditions, and holidays. Booking well in advance and being flexible with your dates can help mitigate these fluctuations.
Can I change the delivery address after booking my auto transport service?
While it may be possible to change the delivery address after booking, it could incur additional fees and cause delays. Notify your transport provider as soon as possible if you need to make changes to your shipment details.
Thinking of shipping a vehicle?
Start shipping with the top auto transport company