When it comes to transporting your precious vessel, picking the right method can feel as tricky as navigating through a tempest. This all-American guide slices through the fog, providing you with an honest comparison of professional boat shipping services and DIY transport. You'll get the lowdown on costs, logistics, and how to make the smartest choice for your boat — all while revealing why True Carrier has become the trusted go-to for countless U.S. boat owners.
Boat Shipping vs. DIY Transport: A Comparison
The transport of a boat, akin to navigating unknown waters, requires careful planning and execution. Whether you're plotting a course across state lines or simply to the local marina, you primarily have two routes: the do-it-yourself (DIY) journey or hiring professional boat shipping services. Both have their fair share of winds and currents, with distinct advantages and challenges. Choosing the right one can be the game-changer that ensures your boat arrives safe, sound, and seaworthy at its new destination.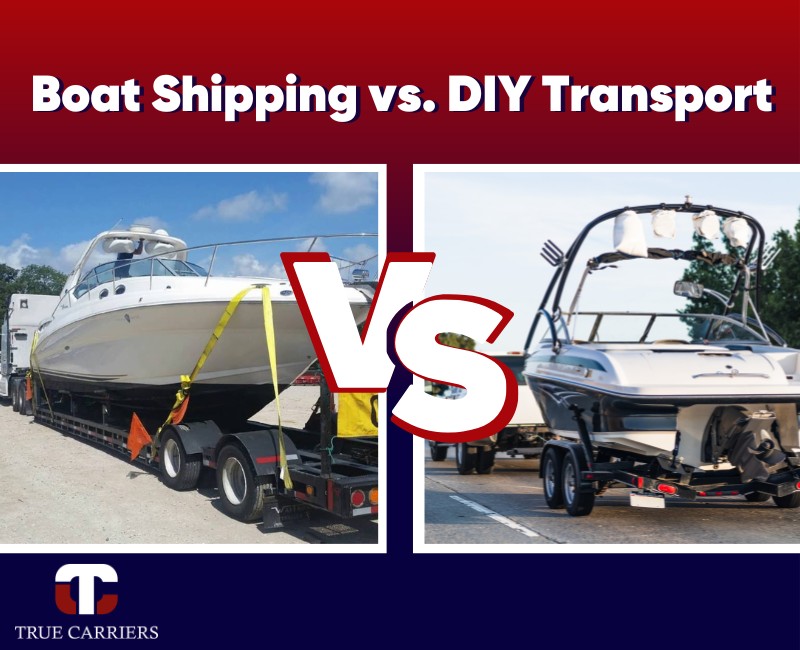 DIY Transport
Going the DIY route means you're the captain, crew, and deckhand – handling everything yourself. Here's the lowdown on DIY transport:
Pros:
Cons:
Professional Boat Shipping
On the other hand, opting for professional boat shipping is like hiring an experienced crew to do the hard work. True Carrier, for example, is a company with a seasoned crew that knows the ropes. Here's what you can expect:
Pros:
Cons:
When charting your course between DIY transport and professional boat shipping, you'll want to consider the voyage's distance, your boat's size and weight, and your budget. DIY might seem appealing for shorter jaunts or if you like to be hands-on, but professional boat shipping delivers a worry-free, streamlined experience perfect for those wanting to ensure their boat's safe and secure voyage. With a company like True Carrier, you're entrusting your boat to the best in the business, ensuring it arrives ready for its next adventure.
A Step-by-Step Guide to Boat Shipping
Opting for professional boat shipping? Here's a user-friendly guide to help you traverse the process without breaking a sweat: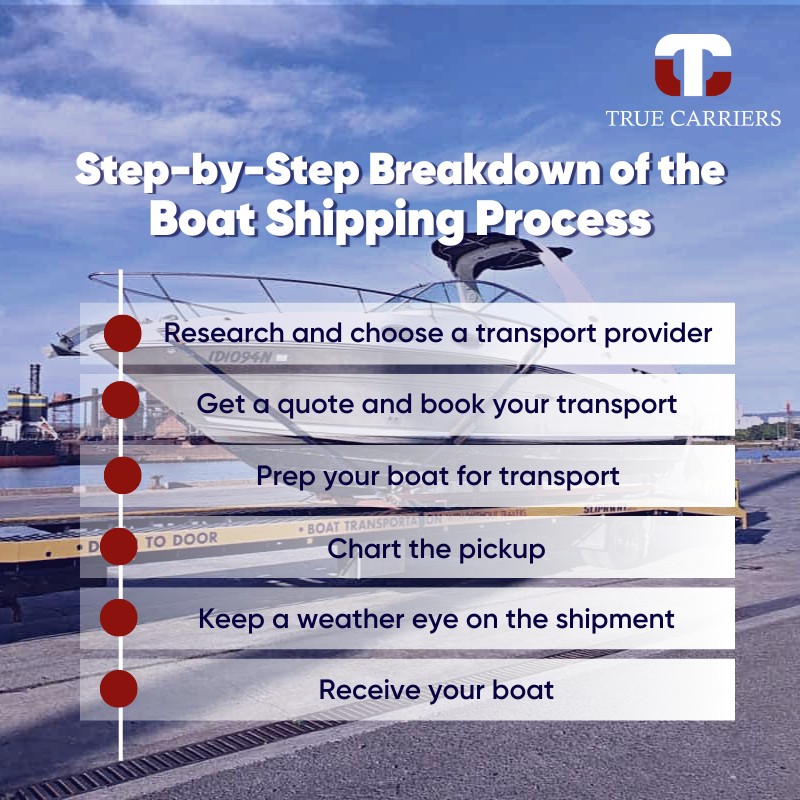 By following these steps and choosing a reputable boat transportation company, you can ensure that your boat arrives at its destination safely and on time.
Understanding Boat Shipping Costs
Boat shipping costs can be as varied as the vessels themselves, influenced by a host of factors like the boat's size and weight, the journey's distance, and any extra services you might need. It's advisable to request a quote from a trusted boat transportation company, such as True Carrier, to get a precise cost estimate.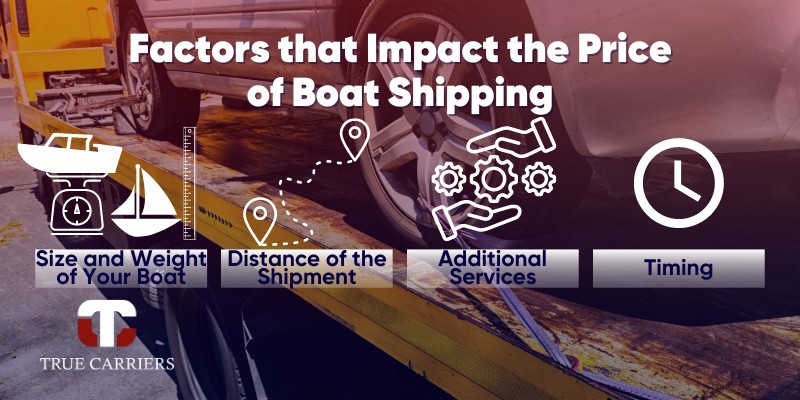 Here's a brief overview of some key elements that can sway the cost of boat shipping:
When assessing boat shipping costs, it's crucial not to fall into the trap of automatically going for the cheapest option. While budget is always a factor, remember that ensuring your boat's safe and secure transport should be your top priority. An experienced and reputable boat transportation company might cost a bit more, but the peace of mind and potential savings from avoiding damage can be well worth the investment. Always get quotes from several companies, compare their services and costs, and then make an informed decision. With True Carrier, you're not just getting competitive pricing but also superior service and a stellar track record.
Making the Right Choice: DIY Transport or Professional Boat Shipping
Choosing between DIY transport and professional boat shipping? Well, it boils down to a few things: your boat's size, the distance it needs to travel, your budget, and just how hands-on you want to be.
If you're the hands-on type, you've got a small boat, and it's not going far, DIY might be right up your alley. You'll save some cash, and you'll be in total control. But, remember, it's not all smooth sailing. You'll be burning through a lot of your time, and there's always a risk of damage to your boat. Don't forget about hidden costs too, like equipment rentals and unforeseen repairs.
Now, if you'd rather sit back and let the pros handle things, professional boat shipping is the way to go. You'll get to relax while companies like True Carrier, with their experience and specialized equipment, ensure your boat gets to its destination safe and sound. It might cost you a bit more upfront, but for longer trips, it can actually save you money. Plus, there's a lot to be said for peace of mind, and knowing your boat is in good hands.
In the end, the choice is yours. Think about what's most important to you, weigh the pros and cons, and make the call. No matter what, your boat's journey should be smooth sailing.
Choosing between DIY transport and professional boat shipping isn't always a straightforward decision. It's a balancing act between cost, time, distance, and the peace of mind you're seeking. While DIY can provide control and potentially lower costs for short hauls, it also demands a significant time investment and carries risks. On the flip side, professional shipping offers convenience and security, particularly for longer journeys. Companies like True Carrier add value with expertise, specialized equipment, and outstanding service, ensuring your boat arrives safe, sound, and on time. The ultimate choice, as always, rests in your hands. By being informed, you can make the decision that best fits your needs and ensures a smooth voyage for your vessel.
FAQs
How long does boat shipping take?
The length of time it takes to ship a boat will depend on the distance of the shipment, the transportation company, and any additional services you may require. Many transportation companies offer estimated delivery times based on the distance of the shipment.
How much does boat shipping cost?
The cost of boat shipping can vary depending on the size and weight of your boat, the distance of the shipment, and any additional services you may require. To get an accurate estimate of the costs involved, it's best to request a quote from a reputable boat transportation company.
Is it safe to transport a boat?
Yes, transporting a boat can be safe if done properly. Hiring a reputable boat transportation company with experience in boat transportation can help ensure that your boat is transported safely and securely.
Do I need to drain fuel and water from my boat before shipping?
Yes, it's important to drain all fuel and water from your boat before shipping to comply with transportation regulations and ensure safe transportation.
Thinking of shipping a vehicle?
Start shipping with the top auto transport company