Snowbirds tend to migrate from colder northern regions like Chicago to warmer southern locations like Hawaii and Sun Belt during winters. The winter runs from three to four months in the US, and this is the time when snowbirds like to take their vehicles with them for convenience.
Snowbird car transport services are the best solution if you, too, are traveling to southern locales this winter. Driving a car to such a long distance can become very hectic and impossible in many cases. Transporting a car seems like the best solution. Snowbirds auto transport can help ship your car to your destination while you can travel with peace of mind.
So, let's dig in to find out how snowbird transportation works, its shipping rates, and common snowbird routes.
What Is Snowbirds Auto Transport
& How Does It Work?
Snowbirds auto services are seasonal. Relocation of vehicles from northern areas to the southern Sunbelt for cold months is snowbirds auto shipping. Since driving across country is challenging and hectic, you can rely on auto transport services to ship your car to your desired location.
Many auto transport companies ship all sorts of vehicles, including motorcycles, cars, trailers, ATVs, and whatever vehicle you could think of. When transporting your vehicle, make sure you choose a company that stays transparent and dedicated throughout the process. Generally, snowbirds car shipping works in the following five steps: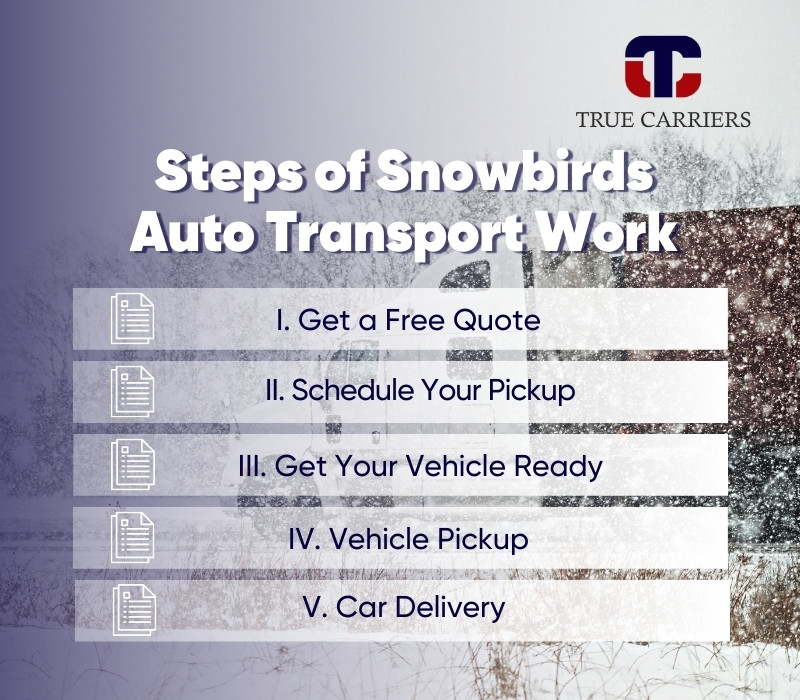 I. Get a Free Quote
The first step to shipping a vehicle is to get a quote. Almost all auto transport companies offer free quotes. You can simply visit the website of a transport company and provide them with the necessary information about your vehicle, including the make and model and other details about the route.
You will receive a quote via sms, email, or through phone call. After that, you can book the service for your vehicle transport.
II. Schedule Your Pickup
Once you have booked the services, you can decide on pickup time, location, and day with the company. You can do so by meeting the staff in person or online.
III. Get Your Vehicle Ready
This is the most crucial step that you should do with all the care. No doubt, the company is responsible for taking your car safely to its destination, but it is your duty to prepare the car according to the company's requirements. They must have mentioned what things you can keep in your car and what should be avoided. Here's what you should do:
Make this checklist and ensure your car is fully ready to transport.
IV. Vehicle Pickup
A driver from the auto transport company will reach the decided location to pick up your car. Ensure that you are ready with your car at that time. If you are not available, you can ask a trustworthy person to be available at the location on your behalf.
V. Car Delivery
You can stay informed throughout the shipping process by a tracking number that the company will provide.
The company will inform you a few days before your car reaches its destination. You will receive a call from the carrier to decide on the delivery location. You can accept the vehicle from the carrier at the decided time.
The Most Common Snowbirds Routes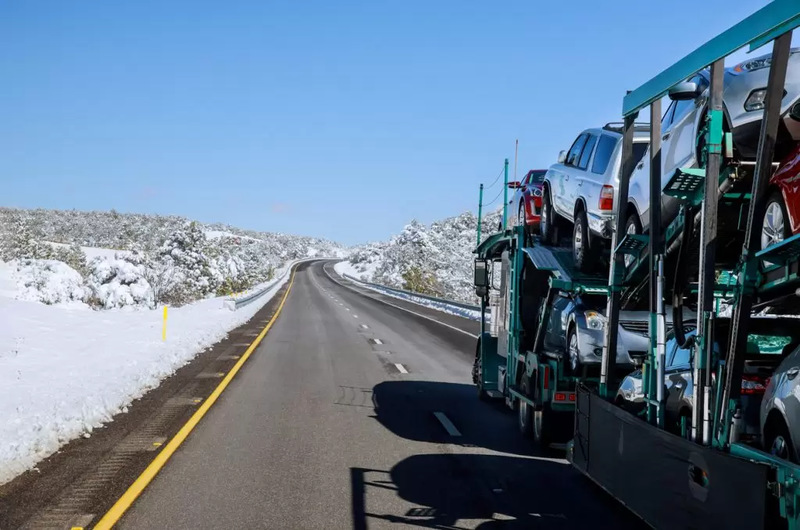 Though Florida is the most popular destination for the majority of snowbirds, there are many other aesthetically pleasing places to see in the South. Taking your vehicle to any of those places won't be an issue as snowbirds auto transport will make shipping convenient for you.
Here is a list of famous destinations that many snowbirds love to visit:
No matter which of these destinations you choose, snowbirds auto transport covers all the routes for the safe delivery of your vehicle while you are all ready to enjoy the trip.
Snowbird Auto Transport, Is It Better Than Driving?
Driving over longer distances causes wears and tear to your car, especially when you are unaware of the road conditions. However, auto transport companies are well aware of all the dangers; therefore, they take all the precautionary measures to transport your vehicle over long distances safely.
Secondly, driving across a country takes a lot of your time and money. You have to stay on the road for hours, which is very unsafe, especially with sleepless nights. You often need to travel for up to 40 hours to reach the Sunbelt from the northern region. You can cut down this time by opting for a plane while leaving your car to the auto transport services.
Transport companies are covered by insurance; therefore, they are liable to pay you if there is any damage to your car during the transportation process. You can travel to your dream destination with tranquility in mind.
How Much Does Snowbirds Car Shipping Cost?
Companies have varying shipping charges. The shipping cost greatly depends upon the distance, vehicle make and model, and transport type you chose. Usually, the cost is approximately $1.50 per mile if the distance is less than 500 miles. With the increasing miles, the cost per mile decreases. Again, this is an approximate cost; you can request a quote from an auto transport company to get an idea of how much it will cost to ship your specific car to a certain location.
Let us shed some light on the factors that affect the shipping rates.
Factors Affecting Shipping Rates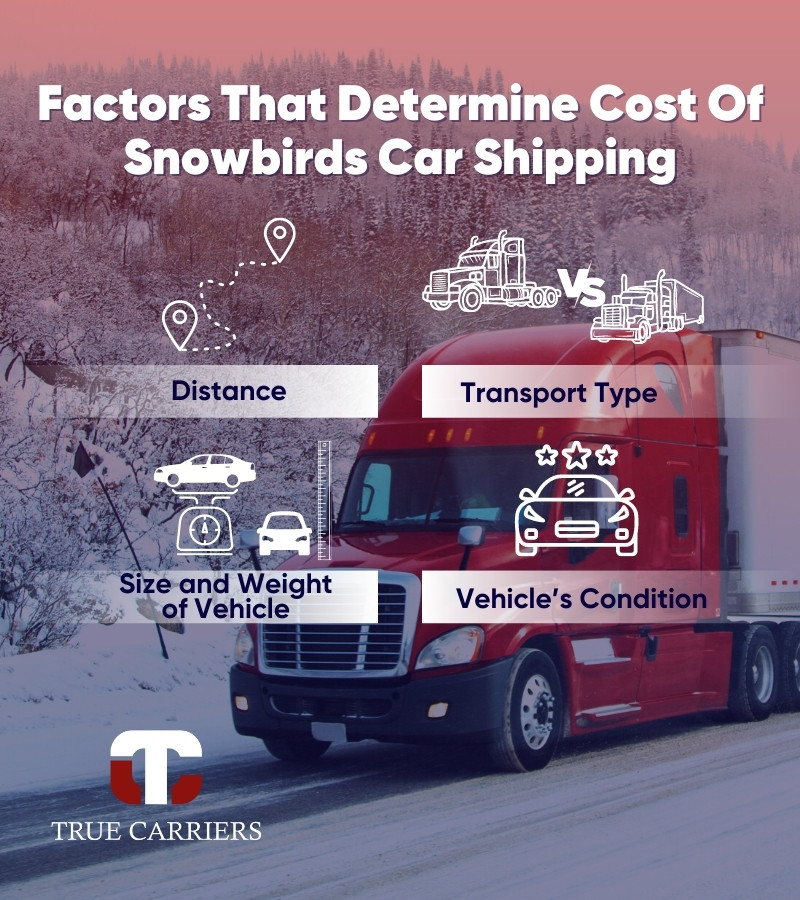 Snowbirds Car Transport Tips
No one likes hindrances during an auto transport process, especially when you are happily ready to go on a trip. For the transport process to go smoothly, you should prepare everything beforehand. Here are a few tips that you should follow for convenient car transport: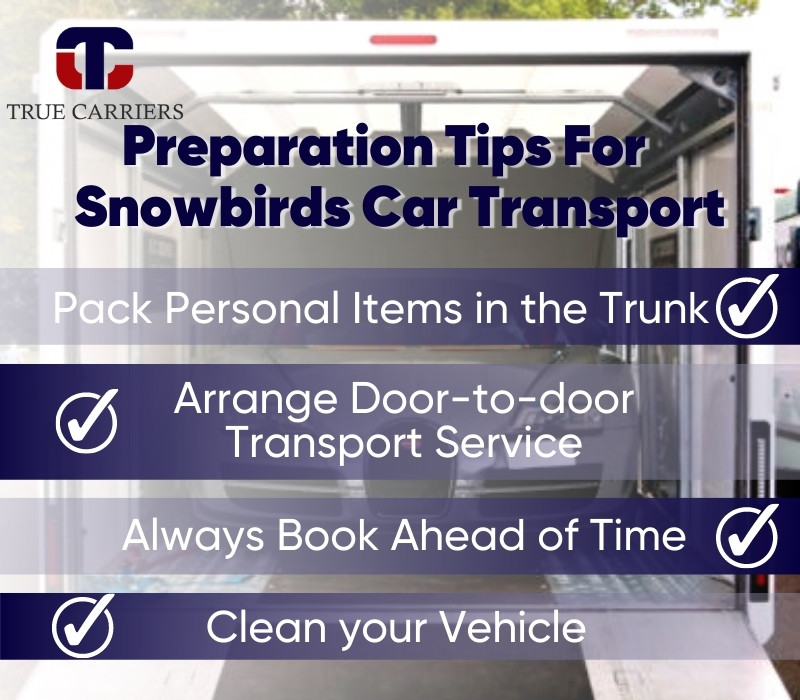 Pack Personal Items in the Trunk
Many car transport services allow some weight to be carried in the car. Check with the company you are transporting your car with. They may allow up to 100 lbs in weight. Therefore, you can keep some personal belongings in the trunk after thoroughly packing them. You should avoid glass and other such materials. Even if you are keeping any fragile thing in the car, make sure to bubble wrap it.
Arrange Door-to-door Transport Service
Picked up right from your doorstep and delivered at your desired location, door-to-door service is a very convenient option for snowbirds transportation.
Always Book Ahead of Time
Booking way ahead of time gives you enough time to make all the necessary travel arrangements. This also helps in preparing cars for transport. As you get lots of time preparing, there will be fewer dangers and risks associated with transport from your end.
Clean your Vehicle
Finally, clean the vehicle thoroughly to make it ready for inspection. During the cleaning process, remove all the unnecessary items from the car. The car's condition will be assessed at the time of pickup and after the delivery.
The winter in the North gets unbearable, and this is the time when snowbirds fly to comparatively warmer locales to stay safe from the harsh cold. Snowbirds are usually attracted to Florida, Hawaii, Austin, Tucson, and the like. However, going to these places without personal transport becomes inconvenient.
But since we have many snowbird vehicle transport services, traveling in winter has become a lot more convenient. You can relocate without stress and enjoy your trip to the fullest.
If you have made up your mind to go on a trip, then you should not delay anymore when you have the best solution for auto transport. Fly away to your favorite destination, and your car will follow you.
FAQs
Which auto transport service is the best for snowbirds?
You can ship your vehicle both in an open and enclosed container. However, there is a major difference in cost. If you want to transport a luxury vehicle, enclosed auto transport is recommended. Otherwise, an open container auto transport does the job really well.
Why should I use snowbirds auto transport?
Driving a car across the country is super stressful and challenging. But if you love the convenience of having a personal vehicle on your trip, you should consider auto transport services. It is safer, will save your time and even money, and will be less dangerous as you wouldn't be moving the car from unfamiliar dangerous routes.
Thinking of shipping a vehicle?
Start shipping with the top auto transport company